Featured Case Study
Background
The client is a multinational innovative pharmaceutical company that aims to provide high-quality and affordable novel biologics to patients around the world, including tumors and autoimmune diseases. The client has multiple R&D centers and laboratories in China and overseas, and with their R&D capabilities and foresight, they have laid out a diversified innovation pipeline for monoclonal antibodies and combination immunotherapies for tumors. Over the years, the client's pharmaceutical product lines have continued to expand.
Challenges
The client's new drug application for NMPA often involve high-volume contents such as study protocols, investigator's brochure, study reports, CRFs, ICFs, safety reports, and clinical literature. The translation projects grew as the product lines expanded, and the client's previous language service provider was no longer able to meet their high expectations for quality and turnaround time. The client needed a new and experienced language service provider for high-quality and efficient services to support their NDAs. In view of the intense competition in the pharmaceutical industry, the client was also extremely concerned about measures to protect confidentiality during the translation process.
Solutions
•

A dedicated localization team primarily comprising professional translators

Wiitrans is known in the industry for its strict selection of translators. Our multidimensional selection framework includes testing of all potential translators, periodic testing of existing translators, and quality tracking. This framework allows us to select native translators with both language competence and industrial knowledge. The backgrounds of our translators include, but are not limited to, pharmacy, pharmacology, clinical medicine, biology, pharmaceutical chemistry, and chemical analysis.

Projects are also fully supported by our experienced project managers, industry experts, and account managers. For this client, we established a dedicated and experienced VIP team, and through interactions with the client, we were able to readily meet the client's quality expectations. Based on product lifecycle, the project manager also formed a customized team that can be expanded and downsized for the client as needed to ensure no productivity issues.
•

Multilevel and comprehensive quality assurance system

Before the start of the translation phase, our team lays a strong foundation quality by communicating with the client, performing information collection, holding internal solution discussion meetings, and training by industry experts. Translation is performed by translators with appropriate language competence and industrial background. The translation is then reviewed for accuracy, consistency, and style by editors who would then complete a quality report. The QA personnel performs spot checks on the quality of translation throughout the process and retrospectively identifies quality issues. Results of the quality report are directly associated with the translator's key performance indicators (KPIs), and this fundamentally enhances the quality of translation at every part of the process.
•

Language asset management for long term cost effectiveness

An exclusive translation memory and terminology database are created for each of our clients to ensure consistency and accuracy. Language assets of the client are also securely stored and updated for exclusive use by the client only. In subsequent projects for the same client, discounts are given based on the number of repetition and high fuzzy matches from analysis using the exclusive translation memory. This ensures that repeated texts are translated consistently and significantly reduces the client's translation cost.
•

Quick response and continuous delivery

For high-volume, urgent projects, Wiitrans works according to the client's timeline and responds in a prompt manner. We also develop solutions through process optimization and proprietary project tools. For example, our system synchronously displays the translations of all translators involved to provide real-time update on the progress of translation. We allocate quality resources and operate 24/7 to ensure projects are delivered with quality by the specified due date.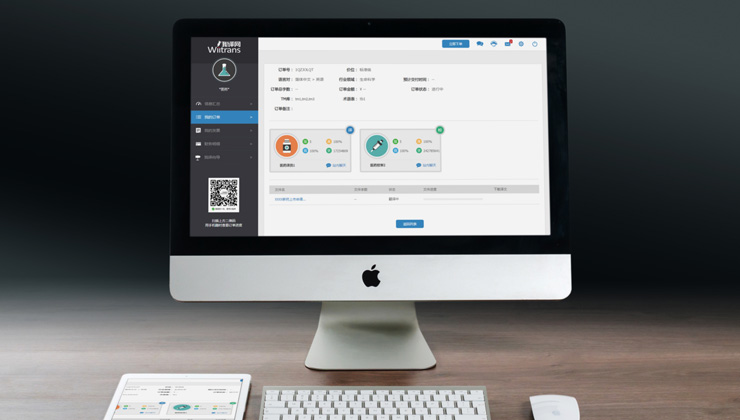 •

Security measures for confidential projects

The confidentiality and security of projects are protected through team configuration, translation process, hardware configuration, and management policies. All project documents transmitted are encrypted, and we take multiple measures including web servers, firewalls, and security maintenance for solid data security. In terms of hardware configuration, our office is equipped with fingerprint identification systems and surveillance cameras. Wiitrans is a paperless office, and special projects are handled in confidential rooms. In addition, all employees are required to sign a confidentiality agreement. Appointed staff perform checks on confidentiality and devise ways to improve the protection of confidentiality.
Results
The final translation outcome met the client's expectations, and application documents were submitted on time. Meanwhile, the utilization of language assets improved efficiency in translation project and reduced the client's cost of translation by nearly 35%. In addition, our translation quality was recognized by the client's regulatory affairs department, and with their recommendation, we cooperate extensively with the client, including their clinical, overseas marketing, and medical departments. To date, we have translated more than 2.6 million words for the client. We will continue to do our best to provide excellent language translation services to our clients and contribute to global developments in life sciences.