ChinaJoy: Your Key to the Chinese Gaming Market
As the largest gaming exhibition held in China, ChinaJoy stands for the current development trends in the Chinese gaming market. Read our blog post to see some highlights of ChinaJoy 2019.
As the largest gaming exhibition held in China, ChinaJoy stands for the current development trends in the Chinese gaming market. Read our blog post to see some highlights of ChinaJoy 2019.
(The turnout at ChinaJoy 2019)
Sony, Microsoft and Nintendo pull out all the stops to bring more games to China
NetEase's joint showcase with long-time partner Blizzard was one of the many partnerships at ChinaJoy 2019. The company even announced its plans to jointly release the Total War series in China with SEGA. Nintendo, on the other hand, made its ChinaJoy debut in collaboration with China's top gaming company, Tencent.
(Nintendo's showcase at ChinaJoy 2019)
These companies will not be alone in reaping the benefits. In fact, such collaborations have an even more profound effect on the Chinese game market. First, Nintendo's foray into the market means that China will be home to the world's three console giants: Sony, Microsoft and Nintendo. Thanks to these platforms, more international console and PC games from overseas can be published, which may even shake up the monopoly in mobile games in the domestic market.
Collaborations with well-known Chinese game companies will also be conducive to shaping the market for original console and PC games, challenging stereotypes about pirated and poor payment habits. In recent years, the anti-piracy efforts of Tencent and other game companies in China have paid off significantly. Chinese gamers have a greater awareness when it comes to original versions and payments. According to a 2015 study by Newzoo, the spending power of Chinese gamers is 9% higher than those of gamers in the U.S., marking a sea change. Together with more than 120 game companies, the authorities in China held a joint anti-piracy press conference to ensure positive developments in the game industry. With a set of policies and regulations for protecting rights now in place, foreign game companies can rest assured when entering the Chinese market.
Chinese localization will boost your top line
The top three most highly anticipated publishers at ChinaJoy 2019 were Sony, Nintendo and Ubisoft. These same companies have given back to Chinese gamers by making stellar game localizations available. Sony announced Chinese versions of a large number of overseas works, which certainly include Sangokushi 14, NBA 2K2 and Shenmue 3; Nintendo showcased the Chinese versions of popular games at ChinaJoy and promised more games in Simplified Chinese to come; and Ubisoft took it one step further, announcing that an Assassin's Creed section will be set in Beijing, a nod to the importance of the Chinese market.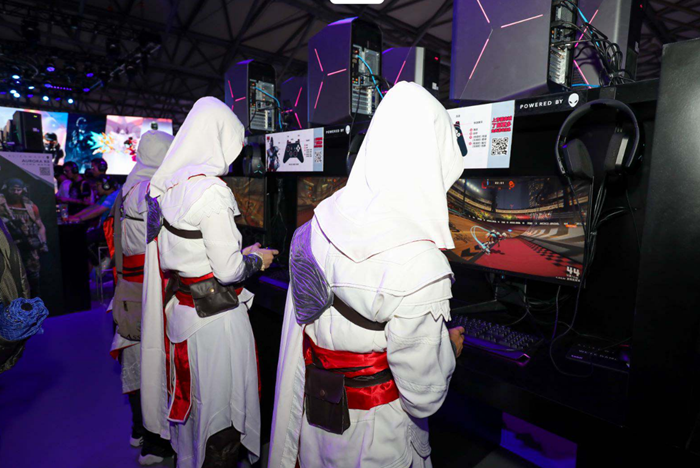 (Chinese gamers decked out in Assassin's Creed gear while experiencing Ubisoft's games)
In the last few years, game companies in various parts of the world have had their eyes on China. CDPR released the Simplified Chinese version of The Witcher 3: Wild Hunt, launched three years ago. Shortly after, it announced that full Simplified Chinese subtitles and voiceovers would be available for Cyberpunk 2077.
On August 6, Publishing Director of This War of Mine, by 11 bit studios, shared their secret for the game's steady sales growth five years into its launch while emphasizing the significance of the Chinese market. "Thanks to localization, we managed to raise the sales in the region significantly. In the first year, China contributed 1% of overall revenues for This War of Mine. In 2018, almost 25% of revenues came from there."
Chinese localization is a long-term investment that will pay off substantially.
(Screenshot of the Chinese version of This War of Mine)
We have been at ChinaJoy almost every year. Although it started as an event attended only by Chinese game companies and a handful of gaming enthusiasts, it has now become an experience that gathers internationally renowned game companies and hundreds of thousands of participants. Whereas game companies were once hesitant about Chinese localization, some now seek the help of Wiitrans as a partner in their Chinese localization efforts.
The gaming linguists at Wiitrans are serious gamers well-versed in the lingo, as well as console, PC and mobile platforms. Our collaborations with multilingual voice actors enable high-quality dubbing suited to the style and characters of each game. At Wiitrans, we provide multilingual game localization services in more than 40 languages with a focus on Simplified Chinese. We look forward to helping you grow your sales and capture a wider audience of gamers. Contact us today if you have plans to enter the Chinese game market!