Wiitrans AI Professional Subtitling: WiiSub AI Media Localization System
(Application Scenarios)
What Can WiiSub Do for You?
Compared with the traditional approach, WiiSub is more efficient and lowers subtitling costs.
AI Transcription
In the event that the source script for a video is unavailable, WiiSub's robust AI voice recognition technology transcribes audio information into text format quickly and accurately. The automated transcription can be completed in one-twentieth of the usual time.
Time-Coding
Traditionally, creating time stamps for subtitles takes significant time. However, WiiSub's natural language processing technology inserts time codes by identifying when the speaker pauses, processing the time information much more efficiently.
Subtitling Engine (WiiMT)
The transcription or source script can be quickly translated with WiiMT, a proprietary neural network machine translation engine that has been integrated with WiiSub. Unlike other translation engines in the market, WiiMT has been specifically trained with tens of millions of sentence pairs from TV programs and movies, variety shows, documentaries, and other media content. Such training of the engine on the corpus over an extended period of time results in higher-quality translations, not to mention better-than-average translation results and a five-fold increase in efficiency over the manual process. WiiSub also features an online subtitling termbase and collaborative translation memory, which ensure the accuracy of translated terminology and frequently used words right from the draft.
(Screenshot of the WiiSub Workspace)
Error Checker
Based on style guidelines for the video content, WiiSub can perform customized checks and specify where errors occur. Automating the review of the number of lines in a shot, character limitations, reading speed, numbers, high-frequency words, and punctuation minimizes the risk of human error, ensuring consistent and accurate subtitles.
Export Formats
WiiSub can process .avi, .mp4, .flv, .rmvb, .f4v, and other files in mainstream audio formats. To satisfy various requirements from our clients, the exported files can display the final subtitles alone, or together with the source in a top or down layout. And WiiSub exports frequently used subtitle formats, such as SRT, ASS, or SSA, with just one single click.
Works With the Project Management Platform
WiiSub is also seamlessly integrated with the Wiitrans project management cloud platform. This allows the linguist team to collaborate in real time and the project manager to maintain oversight over each stage of the project, further enhancing delivery capabilities and efficiency.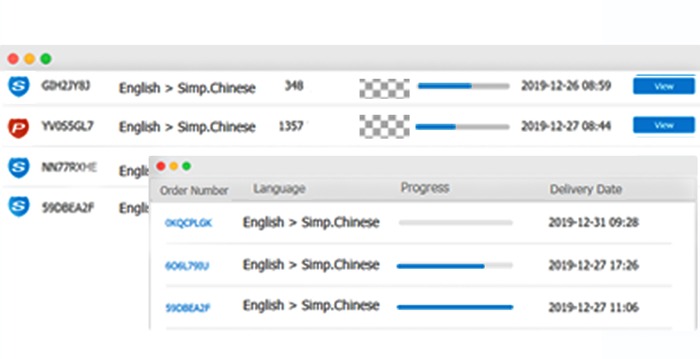 (Screenshot of the Project Management Platform)
Why Choose WiiSub?
High Efficiency, Productivity, and Cost-Performance
WiiSub employs AI technologies for media localization to improve subtitling efficiency. On top of our neural network translation engine WiiMT, which generates better-than-average translations, we have a team of experienced linguists to ensure higher productivity with lower costs.
Dedicated Media Team
Besides WiiSub, Wiitrans has a dedicated media team with a wealth of experience, who provide further quality assurance. Our linguists have years of experience in subtitling and are experienced in translating subtitles for TV programs and movies, dramas, variety shows, documentaries, and promotional videos. They are well-versed in common style guidelines like those of CCTV, Netflix, Disney, Apple, Amazon, and HBO, and are divided into groups based on their areas of specialization, such as wilderness survival, motorsports, medicine, and law. Together with the subtitlers, our experienced project managers, engineers, and subtitle production personnel will see to all your media localization needs.

As global consumers increasingly desire new, high-quality videos, content producers and their language service providers have to rise to the occasion. The experienced media team at Wiitrans and our WiiSub AI media localization system will help you ride this wave and gain a larger audience for your content.