Why the Coronavirus Is an Opportunity to Localize Your Game into Chinese
Global economies and daily lives have been greatly affected by the COVID-19 outbreak. With thousands of Chinese citizens cooped up at home for most of the day, Internet and entertainment industries are seeing an unprecedented amount of activity. In a single day, the Chinese game company Tencent recorded a turnover of 2 billion yuan with a year-on-year growth surpassing 50% for Honor of Kings. Peak players for the game on Steam reached a record 18.8 million. Consoles are experiencing a similar growth spurt, prompting Nintendo to revise its Q1 2020 growth forecast upwards to around 8%, while Sony's sales of PS4s and game discs may also be boosted during this outbreak.
("Steam crashing" was a top search in China, garnering millions of views)
Whether you need to communicate urgently with Chinese vendors or promote your products to the China market, you will need the strong support of a language service provider. Wiitrans ensures the safety of employees with an online translation network to provide our global customers with uninterrupted and quality professional language services.
One-Stop Localization Services
Success in this global environment starts with overcoming language barriers. And as technologies and marketing strategies evolve, your language needs may be more diverse than ever. You might need to email your colleagues or distributors in Asia frequently, and provide them with detailed product and training manuals that are easy to understand; the website, app, and multimedia content of your brand may require localization; and timely updates on social media platforms and response to customer feedback might be necessary.
Wiitrans will build a team consisting of experienced linguists, dedicated project managers, multilingual desktop publishing (DTP) specialists, multilingual voice artists, and engineering personnel for your translation or app/website/multimedia localization project. You will receive professional one-stop localization services in the form of a customized solution and tailored team.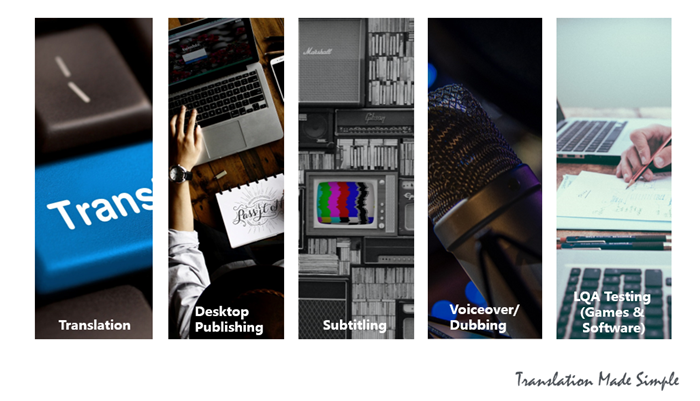 Technical Solutions
 Our focus on developing technologies over the years has earned us the trust of our customers. This has seen us incorporating AI and other advanced technologies to develop agile translation solutions.
Agile translation automates project workflows and management by linking a client's Content Management System (CMS) to the Wiitrans system. Increased efficiency, cost savings, and quick turnaround are achieved, as the manual sending of files and coordination of projects are no longer necessary.
This Wiitrans system is our in-house developed, cloud-based Localization Project Management system which includes WiiCAT, WiiTM, WiiConnector, and WiiSub.
WiiCAT: Linguists can work more effectively with this online translation tool that ensures terms are translated consistently and efficiently.

WiiTM: The language asset management system allows large projects to be completed in a short time and to a high quality.

WiiConnector: This agile localization solution links a customer's CMS with the Wiitrans translation management system (TMS). By automating project workflows, document analysis, and linguist matching, human intervention is minimized and project turnaround times are shortened to meet consecutive deadlines.

WiiSub: The automated video analysis, speech recognition, quick timeline processing, and automated transcription features of this multimedia audiovisual processing platform reduces project costs by as much as 50%. Customers also stand to enjoy greater service efficiency and shorter turnaround times.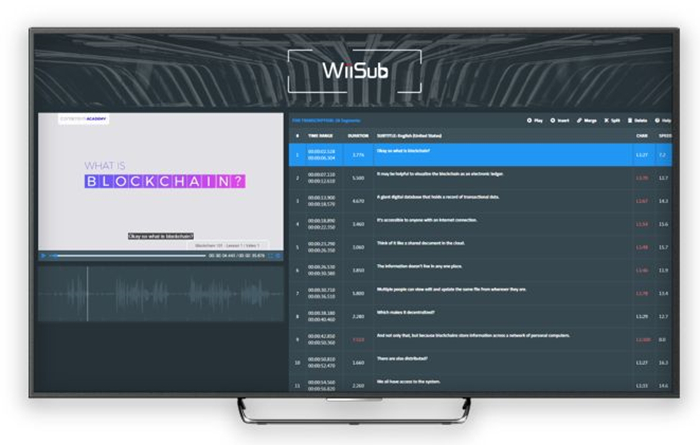 (WiiSub)
Wiitrans has developed linguist pools, nurtured industry-specialized teams, and refined our management and project workflows over the years. We utilize technological improvements to offer customers quality, professional, customized, and efficient language services with a high cost-performance. As a result, many of our customers have established themselves in Asian markets successfully. We look forward to working with more companies, and hope to become your most trusted partner.
For more information and case studies, visit www.wiitrans.com.