2020 Strategy: Latest Guide to Localizing Your Game for China
The scale of the game market in China is now undeniable. In recent years, a surge in the number of paying Chinese gamers made it much sought after by game companies around the world. Here at Wiitrans, we have a home ground advantage, which has seen us work with multinational customers to localize numerous well-known games. In this article, we show you how you can capture a slice of this booming market with the latest authoritative data on China.
Why pick China?
China has one of the largest game markets in the world. The latest figures point to an astonishing actual sales revenue of up to RMB 233.02 billion in 2019, indicating a year-on-year growth of 8.7%. Do you need further convincing?
Chinese mobile game landscape
China has 0.7 billion mobile gamers;
52% of gamers play for more than an hour;
92% of gamers stay interested in a game for at least a week;
MOBA, MMORPG, and ARPG games are the most popular;
only 15% of gamers say they have not spent on a game;
gamers are more receptive to the idea of downloading games with in-app adds or in-app prop purchases for free, instead of paying to download the games; and
Chinese gamers download games on the App Store or Android app stores: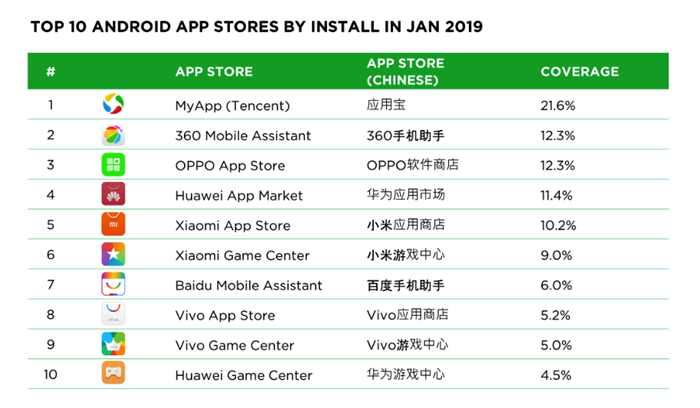 PC and console games
Piracy is waning by the day in China, with Chinese gamers gravitating toward official platforms for games releases, such as Steam, when making purchases. The more than 40 million active Chinese gamers using Steam makes this segment the largest community on the site. In fact, their strong spending power gave a huge boost to the sales of PUBG, Assassin's Creed, The Witcher 3: Wild Hunt, among others. These games have one distinguishing feature in common—the games were professionally localized into Chinese. After all, one reaps what he or she sows.
What attracts Chinese gamers?
The quality of a game itself, the innovative element, and how well the game has been localized into Chinese are the deciding factors for Chinese gamers, rather than low prices.
Marketing content is also effective in drawing Chinese gamers in. Reviews and content on platforms such as game sites, Steam, Weibo, and WeChat help them make their purchase decisions. As such, marketing content is crucial for promoting your game in China. Regardless of whether you need written, visual, or multimedia content localized, Wiitrans has the necessary expertise to support your game marketing needs.
(Reviews of Death Stranding on a Chinese game site)
What to take note of when localizing your game
Chinese localization is key. According to SteamSpy (@Steam_Spy), games localized into Chinese achieve 7 times as much sales as those without.
A professional game localization company will do most of the work for you. Engage the help of a professional Chinese game localization services provider such as Wiitrans.
Languages to translate into. Simplified Chinese (zhCN), Traditional Chinese Taiwan (zhTW), and Traditional Chinese Hong Kong (zhHK).
Languages for dubbing. Mandarin and Cantonese would be preferred, but if you have to choose one, Mandarin has a wider reach.
Develop your game with localization in mind. Chinese is one of the most concise languages in the world, so include code for textboxes that fit the size of their content during game development and this will save you a vast amount of time when it comes to Chinese localization.
Get LQA done before the release. As Chinese sentences are much shorter than the corresponding ones in European languages, UI errors due to space limitations and the display of characters are fairly common in English games that have been localized into Chinese. Before officially releasing the Chinese version of your game, be sure to perform LQA.
Political and cultural issues. A number of companies have been banned for listing Hong Kong, Taiwan, Macau, Tibet, Xinjiang, and other areas as separate autonomous countries or regions. The portrayal of blood, drugs, skeletons, gambling, and sex are also prohibited in China. PUBG, for example, changed the color of blood in the game to green.
(Green blood in PUBG China)
Wiitrans has worked with game companies from many countries, bringing numerous releases to the Chinese market. Our experienced linguists include some who have worked in the international game industry. In addition to our range of translation services from mainstream European languages to Asian languages, we are equipped with a recording studio as well as multilingual voice artists, engineering specialists, and subtitle production personnel. These professionals, together with linguists and project managers, will make up your dedicated game localization team, ensuring that our one-stop translation, localization, and LQA services are culturally appropriate and cater to gamer habits. For more information, visit https://www.wiitrans.com/Solutions/game.html